Bahrain has revoked the nationality of the country's leading Shia cleric, amid a clampdown on Shia activists ahead of next month's parliamentary elections.
Ayatollah Hussein Mirza Najati, who has close ties to Iraq, was stripped of his passport on Sunday, officials said.
A wave of arrests in Bahrain since August has led to clashes and renewed street protests across the country.
Twenty-three activists have been charged with forming a "terror network" aimed at toppling the Sunni leadership.
Bahrain's Shias – who make up 70% of the population of the small Gulf island state – have long complained of discrimination in state jobs and housing, and say that they are barred from holding influential posts in the country's security forces.
Clampdown
Ayatollah Najati – who represents Iraq's renowned Shia cleric Grand Ayatollah Ali al-Sistani – and his family had not obtained their Bahraini passports "through the appropriate legal means", Bahrain's interior ministry said in a statement.
The cleric, who was born in Bahrain but has Iranian origins, did his religious studies in Iraq and Iran.
He and his family obtained Bahraini nationality in 2001 under political reforms instituted by King Hamad bin Isa al-Khalifa, who also cleared the way for parliamentary elections in Bahrain – seen as the main democratic experiment in the Gulf.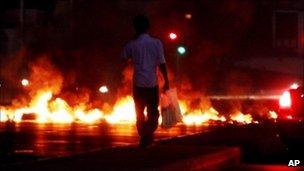 The ministry said the cleric, his wife and three children would have to submit a new citizenship application under the "legal procedures".
Hours before the announcement on Ayatollah Najati, Bahraini officials reportedly issued a two-week ban on sermons by another prominent Shia cleric, Sheik Abdul Jaleel al-Miqdad, who has denounced the campaign against Shias.
Amnesty International has accused the authorities in Bahrain of intensifying a clampdown on Shia opposition and human rights activists in the run-up to 23 October elections.
Many of the 23 activists accused this month are members of the Haq Movement of Liberties and Democracy, a Shia group that is calling for further reform in the island kingdom.
Two of the activists are in London and were charged in absentia.